BACKGROUND
COVID-19 caused numerous complications and setbacks across the world in 2020. Business operations for many industries came to a halt during the initial shock of the pandemic, but healthcare was the exception. With large numbers of COVID patients in need of immediate treatment, healthcare systems across the country began working in overdrive to meet the demand. Citrus Memorial Hospital in Inverness, Florida was one hospital amid infrastructure upgrades that had to be completed during COVID.
PROJECT OVERVIEW
Henderson Building Solutions was charged with leading the replacement of seven air handling units (AHUs) at Citrus Memorial Hospital in February of 2020, just before the pandemic hit. This project also entailed combining two AHUs that served overlapping spaces to drive down maintenance costs, increase efficient air flow, and meet Testing, Adjusting, and Balancing (TAB) standards.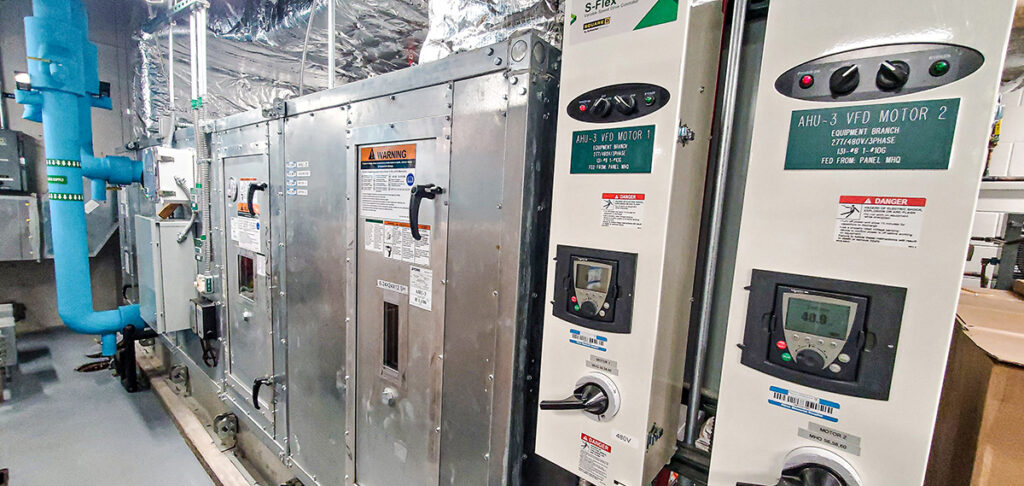 "The construction process for Citrus Memorial looked different due to the pandemic," said Kevin Holland, Henderson Building Solutions construction manager. "For example, we had to ensure AHUs were not recycling air from COVID patients in non-COVID areas and possibly contaminating other patients within the hospital. During our project, the facility had as many as 85 to 120 COVID patients at any given time, so patient care and health of the hospital staff was our top priority." This air system will be useful in preventing the spread of illness, even after COVID is no longer an issue.
For NFPA code compliance, Henderson also needed to move an existing fire pump from a crowded central plant room that already housed multiple systems. Prefabricated building, piping, and electrical were all installed and tied into the existing systems. The medical vacuum added a fourth pump to the existing skid to give the facility necessary equipment redundancy. And the new medical air system, noted above, was moved from its original location in the mechanical room to its own dedicated space in a penthouse location.
RESULTS
The project was scheduled to be completed in December 2020. Despite setbacks from the pandemic, the work was not only completed a month ahead of schedule, but also without any change orders from the original plan. Henderson was even able to give the client back $13,000 in budget savings. Replacing a 28-year-old AHU has considerably reduced maintenance costs for the hospital, while simultaneously helping to decrease infection rates.
Contact us to learn how we can help with your healthcare project needs and beyond.
_________________________________________________________________________________________________________
ABOUT HENDERSON BUILDING SOLUTIONS
Henderson Building Solutions – a wholly-owned construction management subsidiary of Henderson Engineers – focuses on engineer-led design-build projects and commissioning. Backed by the Henderson national network, we use real-time data, leverage invested capital, offer investment-grade budgets, and deliver a functioning system. We offer single-source solutions for turnkey building systems projects. For more information on #TeamHenderson, like us on Facebook and follow us on Twitter, Instagram, and LinkedIn.