At Henderson Building Solutions, we believe in a better process with our construction management delivery method. Running a facility isn't easy. Most of our clients spend their days putting out fires, wishing they had a larger team to help get everything done, and hoping something important doesn't break. That's where we come in — a transparent partner to assess, plan, deliver, and sustain holistic solutions for the life of your building; we're not your average contractor because we offer a design-minded experience for end users.
Let's face it, the design and construction process can be full of friction and is anything but simple. Our process is changing the industry and making it better. We are in a unique position, combining engineering knowledge with in-the-field expertise to provide a single-source design-build solution. The industry is rapidly moving towards integrated design and construction teams, and we like to think that we aren't just embracing the new normal — we're leading it.
Here's why our construction management delivery method is for you.
Our engineer-led design-build (ELDB) services allow you to have expertise on both sides of the design and construction equation. In bringing together experts from Henderson Engineers and Henderson Building Solutions, we provide the owner with a one-stop shop where our engineering and construction management expertise is implemented to assess, estimate, and offer a project schedule that aligns with the owner's objectives. We then provide enhanced design that considers the means, methods, and schedule of construction. The result is better solutions, lower risk, and ultimately, lower total project cost.
In addition to enhanced design, our ELDB team offers the services below.
Design solutions that are well thought out, manufacturer agnostic, and not tied to any labor or equipment targets
Equipment pre-ordering/early procurement
Phasing documentation
Construction documents without "contractor to verify"
Commissioning
We provide commissioning on all our ELDB projects to demonstrate that systems are performing exactly as designed. This provides further opportunities for us to be your partner for the life of your buildings. With the engineer-led design-build delivery method, an owner knows exactly what they're getting and the confidence it's going to work.
In addition to creating a more collaborative built environment, we offer the following services to maximize your project.
Dependable schedule
Investment-grade estimating
Budget monitoring
Open-book pricing
Site and installation logistics
Early procurement of equipment
Expedited schedule
Industry-leading designs
Single source of responsibility
The proof is in the data. We don't expect you to just take our word for it. Two of the biggest headaches in any construction project are cost and schedule. The graphs below show how our process stacks up to industry standards.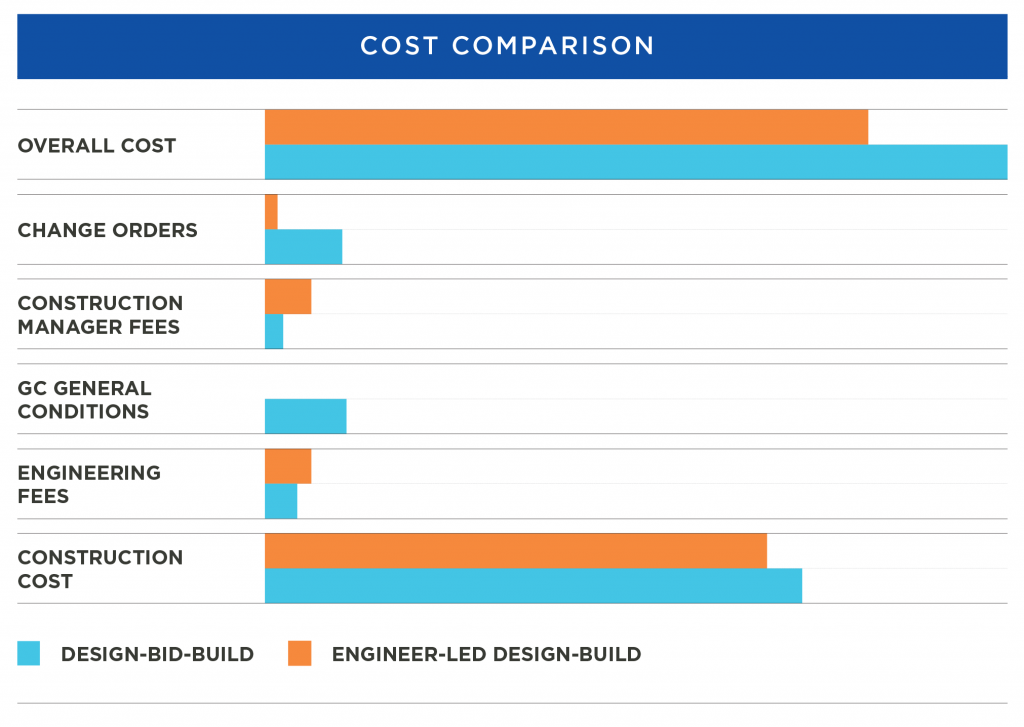 Because our process is led by engineers and run by construction veterans, you can expect efficient designs that work. Leveraging expertise in design and construction allows us to provide detailed site logistics and expedited equipment procurement. This effort also enhances our ability to deliver solutions faster and more economically than traditional construction methods.
It's right there in our name. We're about solutions — results that create real value. Our approach maximizes your benefit, not ours. It's all open book with no hidden secrets. Fundamental to our model, we bid the construction, creating a competitive environment and giving you the most bang for your buck. Here's how we do it.
Multiple industry organizations — including the Associated General Contractors of America (AGC), Construction Industry Institute (CII), Design-Build Institute of America (DBIA), and Lean Construction Institute (LCI) — have studied delivery models and found that the design-build approach with a design and construction team engaged throughout the process yields better results than the traditional model.
Step 1 — Assess
A facility condition assessment includes comprehensive cost analysis, issue identification and diagnosis, and a roadmap to implement solutions so that your building can reach its full potential. We discover, observe, solicit, and report our findings through a transparent process so that you always know what you're getting, which directly aligns with what you want. We'll create and follow that roadmap for you. A well-executed assessment will serve to comprehensively define the scope, schedule, and budget for your project. These key components take into consideration current market conditions related to the sourcing of materials, equipment, and labor.
Our design and construction experts will examine your plans and utilities and observe your site conditions. We are a company focused on client experience, making relationships our top priority. We'll interview key staff, solicit information from vendors and contractors, and keep you informed every step of the way.
We recognize that nothing is more important that a solid project budget. We'll create an initial budget and investigate financing and tax/utility incentives. You'll understand your payback on the project. Our reporting summarizes findings, outlines deficiencies and issues with codes/standards, and highlights energy saving opportunities.
Step 2 — Identify, Plan, and Design
The engineer-led design-build approach uses real-time data, leverages your invested capital, offers investment-grade budgets, and delivers a functioning system. Being backed by an engineering powerhouse certainly has its perks.
We pre-purchase and pre-order equipment, strategize to set the correct plan of execution, design for the end user, and specify what your project needs. We've streamlined the process and ironed out the kinks.
Firm believers in ideation, we encourage input from the owner(s) in the pre-design phase to generate concepts collectively. So that at the end of the day, the owner gets exactly what they've requested.
To keep your project on schedule and on budget, we purchase equipment with long lead times far in advance. Our project development team is in constant communication with trade partners, staying up to date on factors that could impact project budget and/or schedule from a construction management delivery method standpoint.
Time is of the essence when it comes to your business operations, the safety of your staff and the building's end users. That's why we work to reduce downtimes throughout each project by creating a plan to limit interruptions of critical and important operations. We know that for things to run smoothly for you, building systems cannot be offline for lengthy periods of time and, in some cases, cannot be down at all.
When you reach the design phase, we'll create the bidding documents for you, saving you time and potential headaches.
Step 3 — Bid
To provide the necessary solutions, we'll meet with you, standardize specifications, and recommend what will work best. While every project is unique, we believe in an underlying consistency to the way we work. We'll level the playing field and create real value for your project.
We do this by identifying and pre-qualifying at least three bidders who share your values. We'll gather and transfer information by hosting pre-bid meetings, where we convey the project's design objectives.
In normalizing the process, we ensure the bids conform to the design intent. We then endorse the team(s) who best meet your project goals, which validates our research and planning on your behalf.
Step 4 — Construct
Once agreements are reached, it's time to build the right way, protect your asset, and accomplish your building goals. We'll be focused throughout on minimizing downtime, building safely and efficiently, and teaching you how to operate and maximize your facility.
Our team will administer contracts, promote safety, and will be in constant communication to report on progress.
From the pre-construction meeting going forward, the owner is included at their desired level of involvement.
In closing out any project, construction managers ensure that project goals have been achieved and smoothly transfer operations to you, the client. Our experts will train your maintenance staff to thoroughly understand and execute the systems within the building.
Step 5 — Commission and Warranty
A huge benefit to our engineer-led design-build services is that we commission all our projects. We'll ensure everything is working properly as designed by reviewing, testing, and reporting on results. Building commissioning is one of the best risk management strategies in the construction industry because whether a facility is new construction or under renovation, nothing is more important than constructability, functionality, and maintainability of the space.
Buildings today include more technology than ever before. As increasingly complex facilities are built on tighter construction timelines, the complicated systems included must be integrated to function efficiently. This is where our team thrives in ensuring proper operations.
We confirm that systems operate as designed through certifications and review of submittals. Through inspection, we're able to observe all systems were properly installed and will report any deficiencies to resolve issues. In any project, we'll provide advanced testing, to "kick the tires" so to speak. This verifies the sequence of operations, fosters collaboration, and helps drive projects to completion.
Finally, we'll transition these tasks smoothly to the owner with thorough training and understanding of how the systems work. During the designated warranty period, we'll help enforce responsibilities to ensure all bases are covered.
Life of the Building
But for us at Henderson Building Solutions, our work doesn't stop when construction is completed. We're focused on becoming your partner for the life of your building. We believe no project is ever truly finished even after the grand opening. We're there as your trusted advisor to help maintain, operate, monitor, and understand your new space. Together with Henderson Engineers, we leverage expertise in every building system.
The building systems we work with literally bring buildings to life. While these are often the unseen elements tucked away in the ceiling, walls, and floors, we recognize the importance of light, warmth, safety, water, and Wi-Fi which turn a structure into a building. To us, life of the building means what takes place inside, and we strive to deliver welcoming environments where people can advance thought, drive industry, and come together to celebrate achievement. We're not a typical contractor simply replacing equipment — we deliver environments where people can do more. Through our engineer-led design-build services, we help our customers and your customers reach their full potential as well.
The answer is evident: the construction management delivery method, engineer-led design-build, and commissioning is the way to go. The proof is in the results — you know what you're getting, and you get exactly what you want while lowering the contractor's risk and total construction cost.